BUSINESS WORKFLOW, SCHEDULING, AND MEDIA ASSET MANAGEMENT SOFTWARE
for Broadcasting Companies, Postproduction Facilities, TV Stations, Cable
Networks, Film Studios, and Media Creation departments and companies.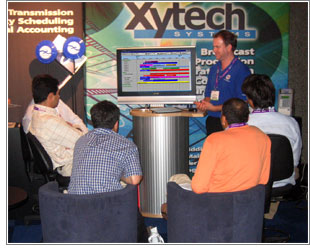 Dear [contact-first_name],
We hope you enjoyed the IBC 2006 Conference in Amsterdam and had the opportunity to learn more about the latest trends and new product solutions that help further your business.
If you did not have the chance to stop by the Xytech System's booth or to be at this year's IBC conference, Xytech Systems offers the leading workflow, resource scheduling, and media asset management solution for organizations whose business is media content.
We provide a complete, end-to-end business workflow solution that allows users to manage and track media content and related activities including media ordering; scheduling resources, crews, and rooms; tracking equipment; facilities management; bid and work order generation and management; purchasing; billing; quality control of media elements; content delivery; transmission order management; and the management of physical and digital library assets.
If this might be of interest to you, please let us know. We would greatly appreciate the opportunity to demonstrate the benefits of using Xytech System's media business software.
Warm regards,
Ron Peeters
Executive Vice President
Xytech Systems Corporation
rpeeters@xytechsystems.com
Phone +1-818-303-7822
Matt Waldock
Director European Operations
Xytech Systems UK Ltd
mwaldock@xytechsystems.com
Phone +44-20-7903-5167